Deaf-led Tour: Fresh Hell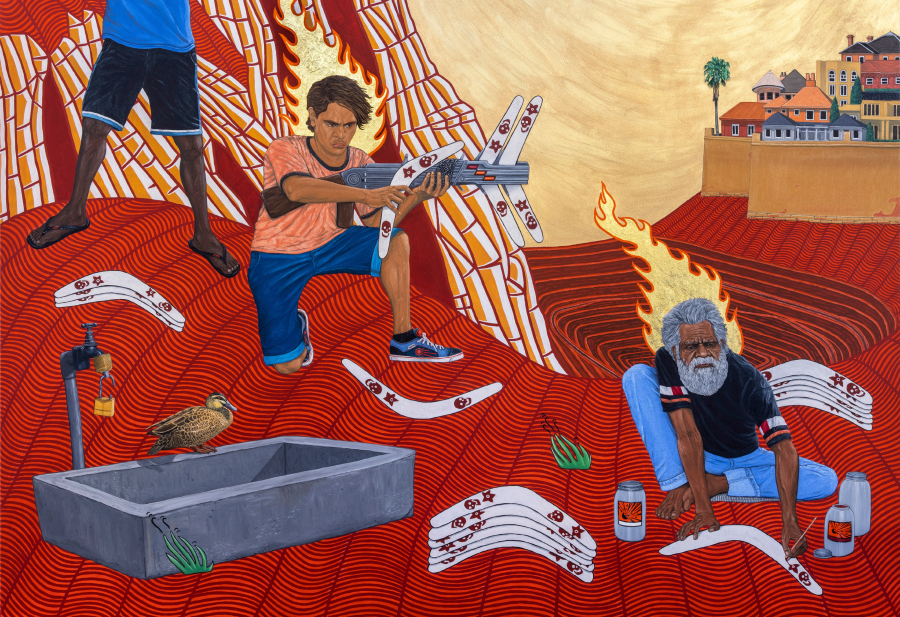 Older man sits on ground painting a boomerang. Younger man kneels on ground with a boomerang-gun.
Open to Deaf, HoH, Auslan students, friends and family.
When
Adelaide Contemporary Experimental
15 October 2022
12:00pm to 1:00pm
Join guide Samantha Wilson for a deaf-led tour of Fresh Hell – the first major solo exhibition by Ryan Presley.
Fresh Hell brings together a suite if paintings that Brisbane-based artist Ryan Presley has been steadily developing over the past eight years, for the first time in a major solo exhibition.
Feature Image: Ryan Presley, 'Aeronautics (what goes up must come down)' (2020), oil, synthetic gold and 23k gold leaf on poly-cotton, 182 x 152 cm. Collection of Artbank, Sydney/Melbourne. Courtesy the artist and Milani Gallery, Brisbane.
View of four artworks hanging on various walls within the gallery space.
Presley's practice wrestles with themes of power and dominion—in particular, how religion and economic control served colonialism and empire building over time, and the representation of its customs and edifices in our everyday lives.
Fresh Hell is informed by Presley's own Catholic upbringing and experience, having been baptised in a desert township; Alice Springs. Large-scale oil paintings are detailed and layered with meaning, often referencing the canon of Western religious works that span from the Icon schools, Middle Ages, Renaissance periods through to the current day. These historical referents are, however, re-interpreted by casting young Aboriginal people as the key protagonists in recent pasts and foreseeable futures.
'Fresh hell' is a sardonic term used to describe when things go from bad to worse very quickly and inexplicably. Over the last ten years Presley has built a reputation for re-appraising difficult histories and, in the context of this new body of work, the exhibition title tells us something of the admonition the artist wishes to make against the ongoing treatment of Aboriginal people in Australia.
Following the premiere of Fresh Hell at ACE, the exhibition will be presented at Gertrude, Melbourne, in early 2023.