MONOLOGUE
Special Event
30 September 2022 - 31 December 2022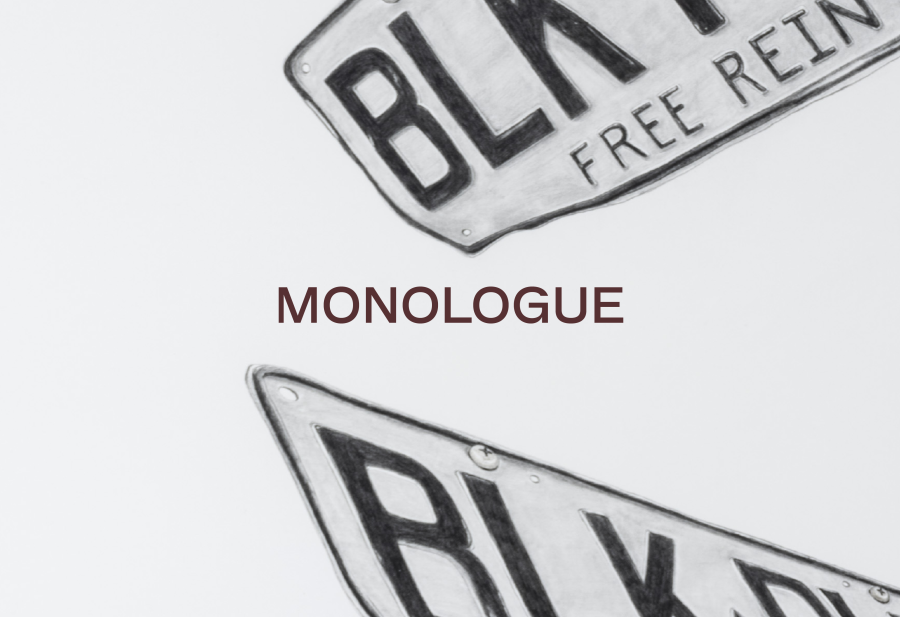 A pencil drawing of Australian style number plates which read: 'BLK PWR, Free Rein'. The text 'MONOLOGUE' is overlaid.
fine print presents MONOLOGUE (online) in response to Ryan Presley's solo exhibition Fresh Hell.
When
Online
30 September 2022 to 31 December 2022
Focussing on the voice of the story-teller, MONOLOGUE is an online series of long-form filmic responses to the conceptual details of Ryan Presley's solo exhibition Fresh Hell. In collaboration with Watch This Space (Mparntwe-Alice Springs) and First Nations voices across the country, MONOLOGUE addresses the potentiality of social and political art transformed by the spoken and written word.
MONOLOGUE will launch online across ACE and fine print on Friday 30 September. 
Contributors to this issue include Declan Furber Gillick (Arrernte, living in Mparntwe Country), Nat Harkin (Narungga, living on Kaurna Country), Latoya Aroha Rule (Wiradjuri/Māori, living on Gadigal Country) and Thomas Readett (Ngarrindjeri/Arrernte, living on Kaurna Country).
Feature Image: Promotional design featuring detail of Ryan Presley, 'HIGH ROADS, LOW ROADS (NO EXIT)' (2022). Courtesy of the artist and Milani Gallery, Brisbane.
fine print is an independent magazine cultivating critical and experimental discussion around contemporary art, both online and in shared spaces. fine print's editors are Rayleen Forester and Joanna Kitto. 
In 2022, fine print is focused on opportunities for reciprocal forms of learning, and sharing skills and knowledge in an informal, hospitable format. Through a number of programs across the year, we seek to create space for conversations around our work and the ways we work, with learning equally shared between participant and presenter. MONOLOGUE and COMMON CULTURE are presented as part of fine print's 'COMMONS'. 
COMMONS has been assisted by a Government of South Australia-Covid Recovery Grant.