About Us
Adelaide Contemporary Experimental (ACE) is South Australia's leading independent contemporary visual arts organisation.
Located in Adelaide's iconic Lion Arts Centre precinct, Adelaide Contemporary Experimental (ACE) is South Australia's leading independent contemporary visual arts organisation, proudly supporting artists to develop and present work on Kaurna Yarta (Kaurna Country).  
Established through the merger of Contemporary Art Centre of South Australia (CACSA) and the  Australian Experimental Art Foundation (AEAF) in 2017, ACE builds upon the legacy of over 100 years of innovative experimental arts practice in South Australia.
Through exhibitions, studios, public programs, education,  professional development opportunities and publications, ACE expands the edges of contemporary visual art practice, embraces diversity and provides a space for artists to take risks. 
Our Approach To Programming
Since its inception, ACE's program has explored many timely issues, driven by the question: what is urgent to discuss today and who should be telling these stories? We recognise that contemporary art takes many forms, and have built a reputation for presenting new and important processes and methodologies for artistic practice.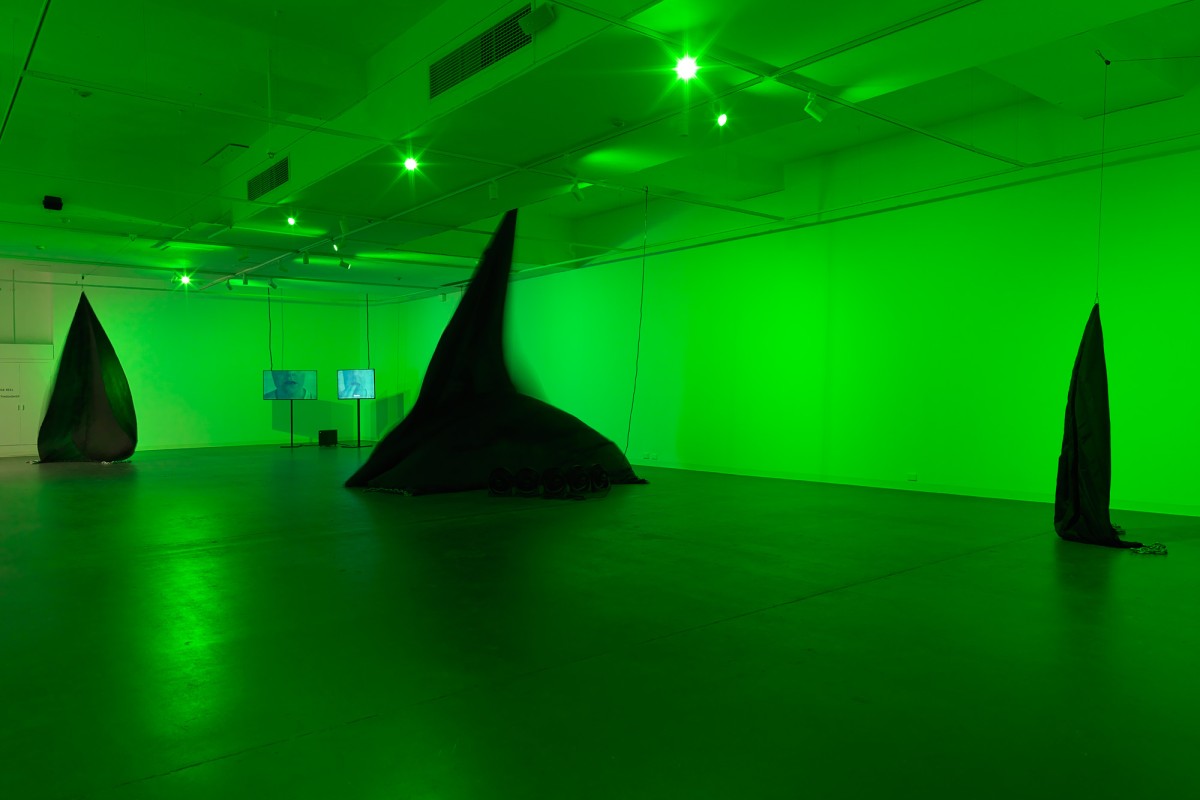 Three black sails billow in the gallery space. Two TV screens in the background display a mouth. The light is green.
Exhibition program
ACE presents a yearly program of free exhibitions, with focus on commissioning and curating new work from local, national and international artists across all stages of their careers. We regularly work with external curators, collaborators and partners to expand the diversity of voices and perspectives in our program. Our exhibitions are complex, contemplative and ever-changing.
Public programs
ACE presents an annual program of talks, performances, film screenings, accessibility tours and other events that accompany and contextualise our exhibitions. We also invest in stand-alone activities, such as public discussions and workshops, to connect our audiences with contemporary art practice and ideas. Our public programs are expansive, stimulating and open to all.
Studio Program
ACE is home to five fully-supported, rent-free CBD-based studios for South Australian artists. 
The ACE Studio Program provides professional development opportunities, including studio visits with Australian and international curators; participation in public programs; mentorship by ACE staff; and prominent profiling and promotional opportunities.  
It is the only program of its kind in the state and is an invaluable pathway for artists to gain national recognition. Working as part of a cohort of fellow  artists, the Studio Program gives residents the space to experiment with their practice and grow their professional careers.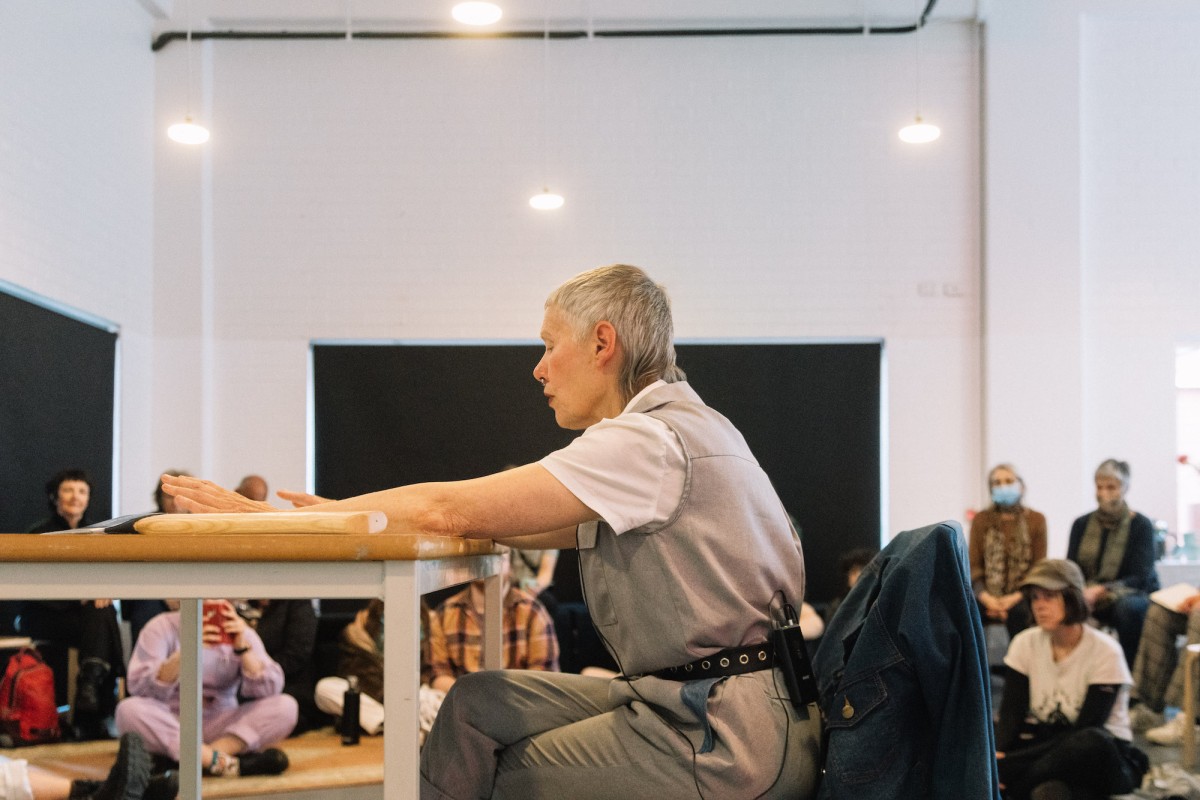 A person sits at a table in the front space. Their arms are outstretched. Audience watches.
Our Audiences
ACE believes everyone has a right to access artistic expression and take part in South Australia's cultural life. We invite audiences to experience contemporary art in an environment that is simultaneously engaging, challenging and welcoming. ACE is committed to ensuring our programs and activities are as accessible as possible, for as many people as possible.
Our Role In The Sector
ACE plays a vital role within the South Australian arts sector and cultural ecology, championing best practice in a wide range of arts activities. We serve as a scaffold for building local artists' careers and are quickly growing a legacy of new work commissions which continue to circulate in galleries and collections across Australia. We believe that, by strongly supporting local artists and communities, and connecting them to our national and international peers, we can create greater opportunities and more expansive contexts for a diversity of art practitioners in South Australia.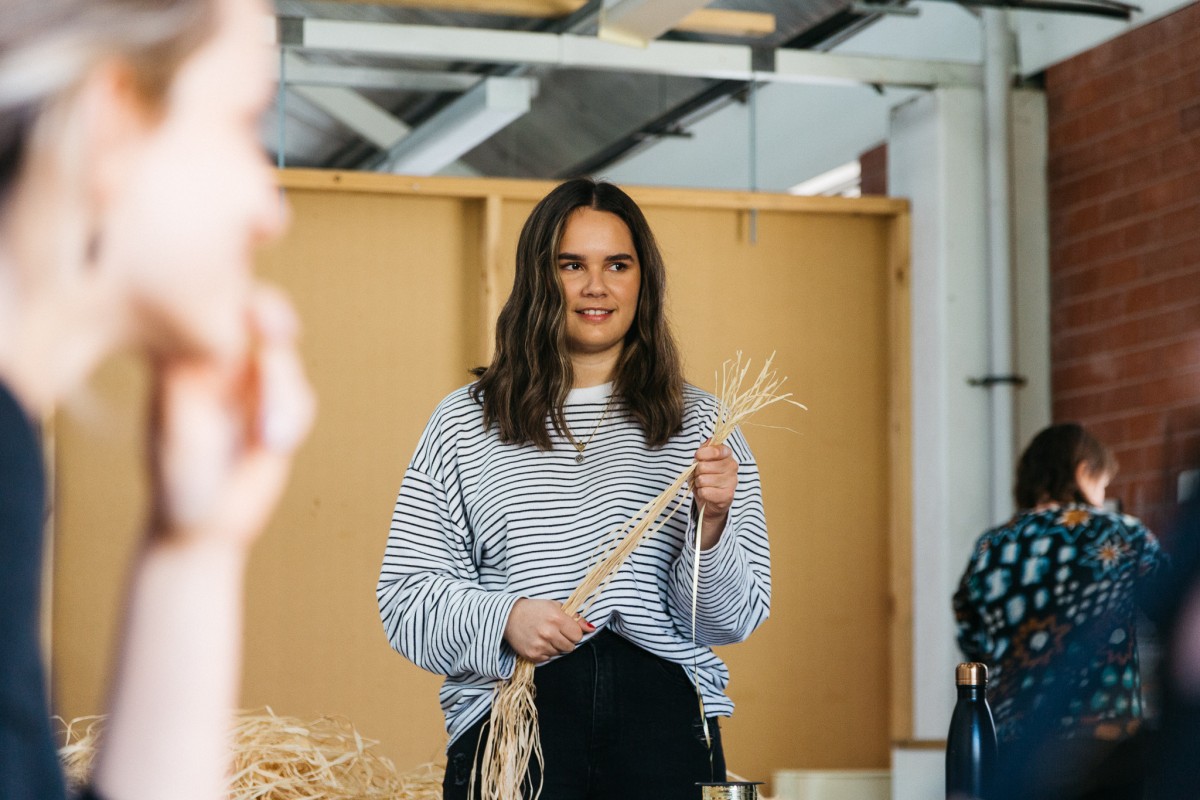 Carly Tarkari Dodd stands with materials in her hand, leading her workshop in the ACE Studios.
Vision
To understand, expand and transform our world through contemporary art.
Mission
To be South Australia's leading contemporary art space, nationally renowned for supporting artists, promoting artistic excellence and enriching audience experience.
Annual Report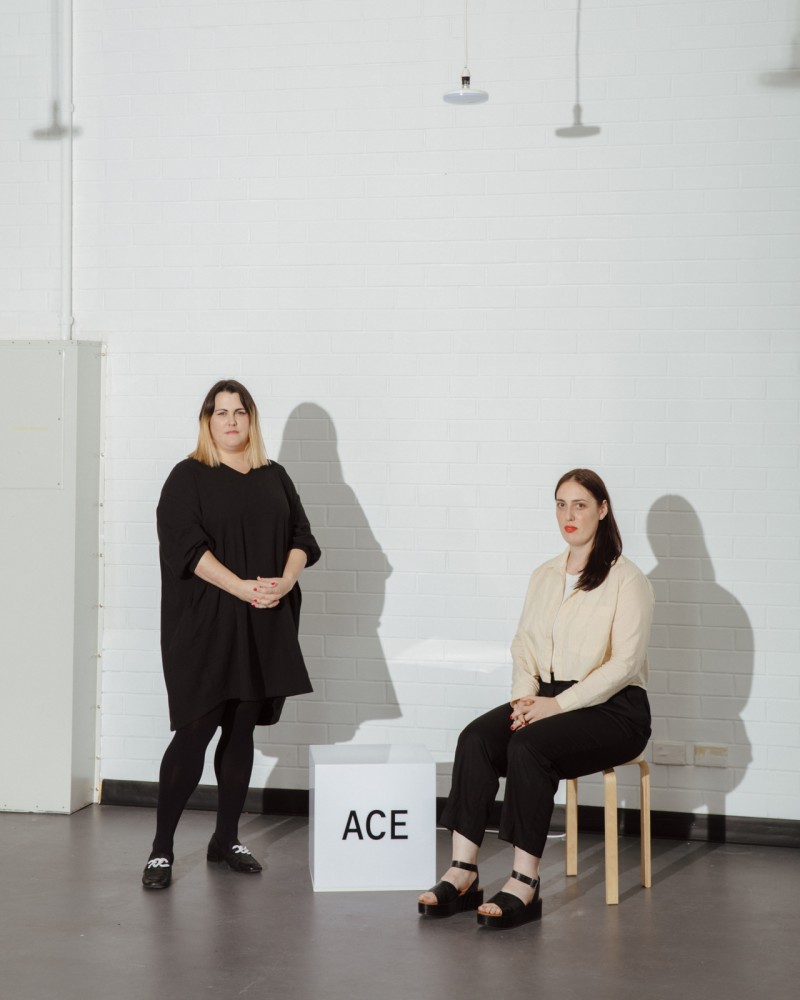 Louise Dunn and Patrice Sharkey smile to camera in the ACE front room.
Staff
Patrice Sharkey
Louise Dunn
Rayleen Forester
Sharmonie Cockayne
Grace Marlow
Alise Hardy
Sally Francis
Ava Viscariello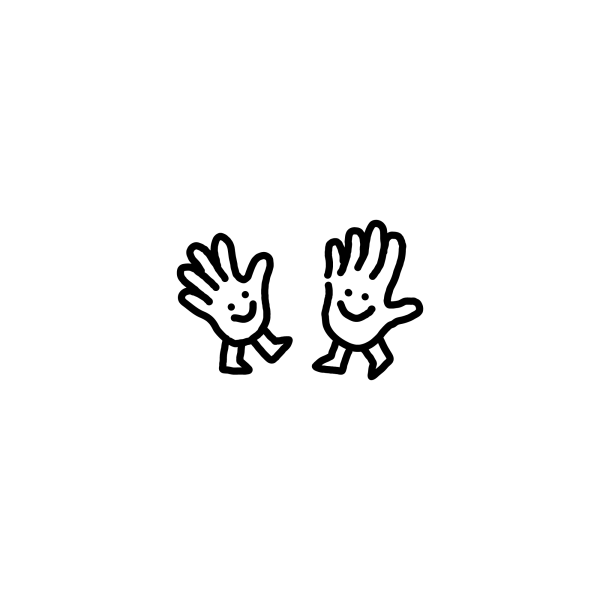 Patrice Sharkey
Artistic Director
Patrice Sharkey is a curator, writer and arts leader who lives on Kaurna land in Adelaide. She was previously the Director of West Space in Melbourne (2015-2018). Patrice's work experience also spans the university and commercial sectors, including roles as Assistant Curator at Monash University Museum of Art and Gallery Assistant at Sutton Gallery.
At West Space Patrice curated the group exhibitions Real Life Fantasies and The Drawing is Just Not There (with Christopher L G Hill), and commissioned solo projects by Fiona Abicare (Rose Moon, 2019), Gavin Bell, Jarrah de Kuijer & Simon McGlinn (Open Window, 2018), Jason Phu (my parents met at the fish market, 2017) and Lisa Radford (Dear Masato, all at once (get a life, the only thing that cuts across the species is death), 2016). Other curatorial projects include Auto Body Works, Arts Project Australia, Melbourne, 2018. Her writing has been published by the Art Gallery of South Australia, Home of the Arts (Surfers Paradise),Govett-Brewster Art Gallery (New Plymouth), Monash University Museum of Art (Melbourne),and National Gallery of Victoria.
Patrice received a Bachelor of Arts (First Class Honours), majoring in Art History / Cultural Studies, from The University of Melbourne in 2010. She is an alumnus of the Australia Council's Future Leaders Program and is currently Deputy Chair of the National Association of the Visual Arts (NAVA). 
Louise Dunn
Executive Director
Louise Dunn is a veteran to the South Australian arts scene, most recently leading Nexus Arts as Executive Director for seven years (2012-2019), where she focused on rebuilding the organisation to become a leader in contemporary culturally diverse arts practice. At Nexus Arts, Louise devised and delivered the Ruby Award winning Barngarla: Stories of Resilience project, initiated new artist development programs benefiting over 40 South Australian artists, increased audiences and stakeholder engagement, and more than tripled funding levels. Louise has held multiple Board and committee positions in the arts sector locally and nationally, most notable as Deputy Chair (2014 -2016) and Chair (2016- 2017) at Diversity Arts Australia (formerly Kultour).
Rayleen Forester
Associate Curator
ACE Associate Curator Rayleen Forester is a Tartanya-Adelaide based arts worker and writer. Rayleen's curatorial interests focus on cross-cultural engagement and outcomes through experimental curation and programming, performance and writing. Rayleen has worked for major international biennales and art galleries in both Europe and Asia including MANIFESTA9 (Belgium) and MEM (Japan). She co-curated the long-established Artists' Week symposium with Lars Bang Larsen (Denmark) and Richard Grayson (UK) for the 2014 Adelaide Festival. She has written for publications such as UNmagazine, Artlink, Art Guide and Broadsheet and is a founding member of South Australian initiatives FELTspace and fine print. 
Sharmonie Cockayne
Marketing & Communications Manager
Sharmonie Cockayne is a multi-skilled creative professional with a work history across marketing, publishing, fashion and digital media. Since graduating from the University of Adelaide with a Bachelor of Media, majoring in Marketing, Sharmonie has worked as Creative Content Executive at Super Assembly, Fashion Director and Creative Producer for CityMag, Contributing Editor to South Australian Style Magazine, and has worked in marketing roles for the Adelaide Symphony Orchestra and Dion Lee (NYC).
Grace Marlow
Public Programs Coordinator
Grace Marlow studied a Bachelor of Visual Arts (Honours) at Adelaide Central School, and has since practiced and collaborated  as an artist across performance, poetry and writing. Grace was the Gallery Manager at Sister Gallery in Adelaide from 2017-2019.
Alise Hardy
Education Coordinator
Alise Hardy is an educator and artist. She is interested in how industry-centred practices in classrooms and galleries can champion young artists and support them in achieving their goals within and for the arts sector. Her work experience spans galleries, arts organisations, festivals and schools, including roles at the Art Gallery of South Australia (AGSA), Carclew, DreamBIG Children's Festival and as a teacher in schools in Adelaide and London. 
Currently, Alise also works as Education Coordinator, Schools at the National Association for the Visual Arts (NAVA) and is a Committee Member (Education Resource Development) for Art Education Australia (AEA). Alise has a Bachelor of Education and Bachelor of Arts, majoring in Visual Arts, from Flinders University.
Sally Francis
Administrator
Ava Viscariello
Marketing & Communications Assistant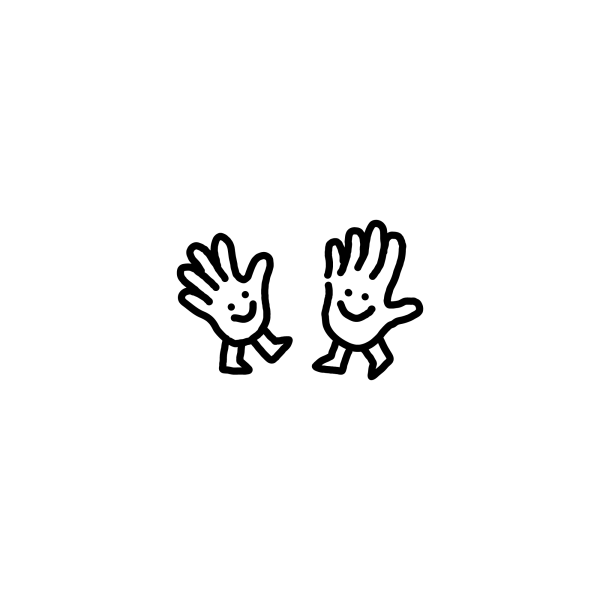 Board
Rainer Jozeps (Chair)
Gemma Harris (Treasurer)
Anton Andreacchio
Hannah Andreyev
Bridget Currie
Becci Love
Louise Rigoni
Fiona Salmon
Yhonnie Scarce
Established through the merger of Contemporary Art Centre of South Australia (CACSA) and the Australian Experimental Art Foundation (AEAF) in 2017, ACE builds upon the legacy of over 100 years of innovative experimental arts practice in South Australia.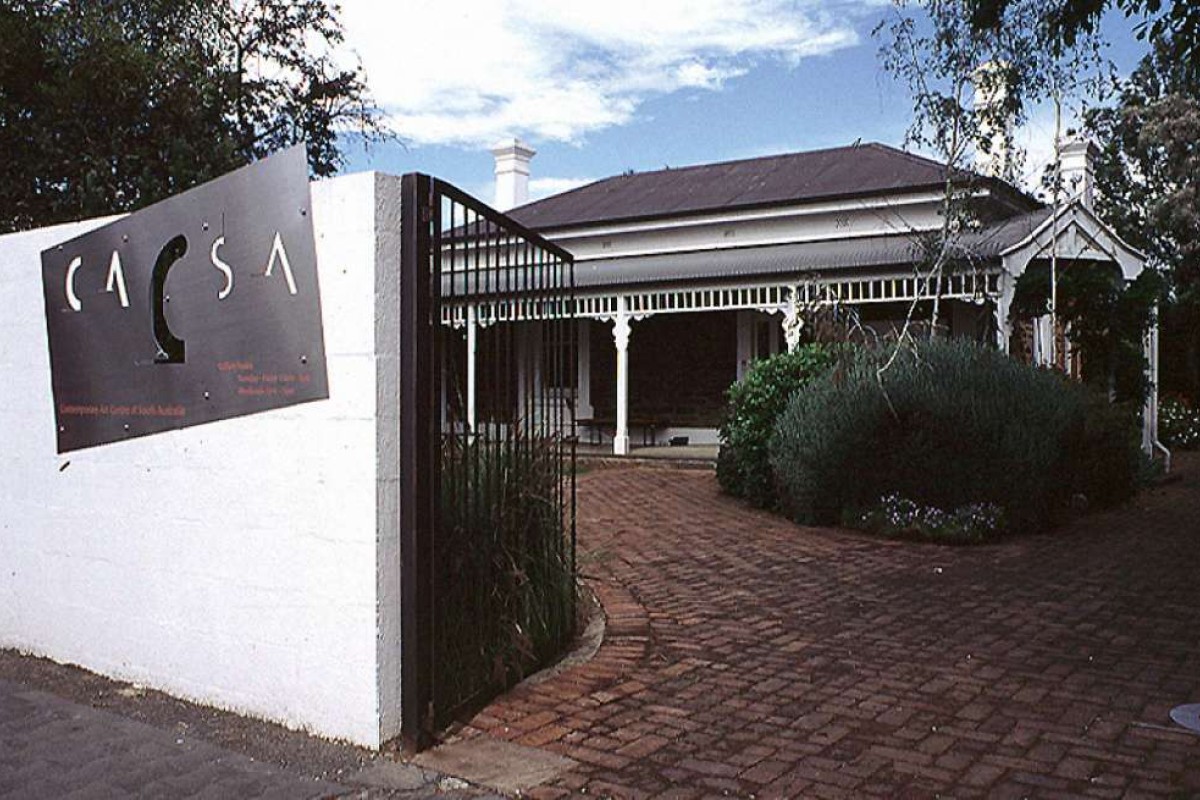 A large single-storey suburban house in a garden setting, framed by a white wall with a sign reading: CACSA
The Contemporary Art Centre of South Australia
The Contemporary Art Centre of South Australia (CACSA) was established as the Contemporary Art Society (CAS) in 1942, when a breakaway group of young artists from the Royal Society of Arts sought greater opportunities to exhibit their work. What followed was almost 75 years of pioneering activity dedicated to the promotion and exhibition of contemporary visual art.
In 1964 the CAS acquired an iconic bluestone bungalow in the leafy Adelaide suburb of Parkside in which to exhibit work. Until its closure in 2016, the Porter Street property was the longest running contemporary art space in Australia. Adventurism and risk-taking defined the CAS, with its exhibitions and programs propelling the careers of many iconic South Australian artists.
The Contemporary Art Centre of South Australia incorporated in 1986, and the organisation transformed from a volunteer-run gallery established for the exhibition of members' work, into a publicly funded organisation with an exhibition program of national and international significance, and a revered publishing arm led by Broadsheet Journal.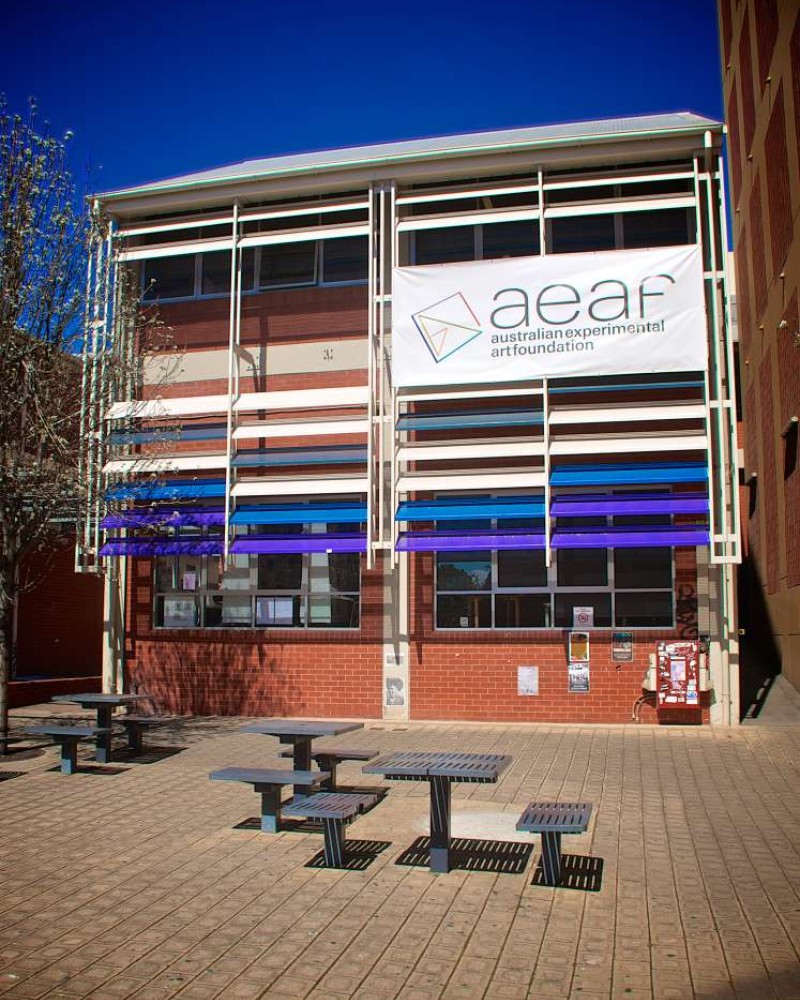 Exterior of the Australian Experimental Art Foundation Building, a two-level red-brick space in the Lion Arts Centre. A banner labelled AEAF hangs from its second storey.
The Australian Experimental Art Foundation
The Australian Experimental Art Foundation (AEAF) was established as the Experimental Art Foundation (EAF) in 1974 by a small group of Adelaide artists and theorists, in order to both encourage new approaches to the visual arts and to promote the idea of art as 'radical and only incidentally aesthetic'.
For more than 40 years the organisation presented exhibitions and events that continuously pushed the boundaries of art practice. Exhibitions celebrated local, national and international experimental artists, and were seminal in presenting Australian and international performance art.
In 1992 Adelaide's Lion Arts Centre became home to the AEAF's purpose-built gallery and facilities, including artist studios, offices and the Dark Horsey Bookshop. The AEAF supported critical dialogue through publications, artist monographs, talks and critical writing. Its artist studios and residency program supported some of South Australia's leading artists of the 1990s-2010s.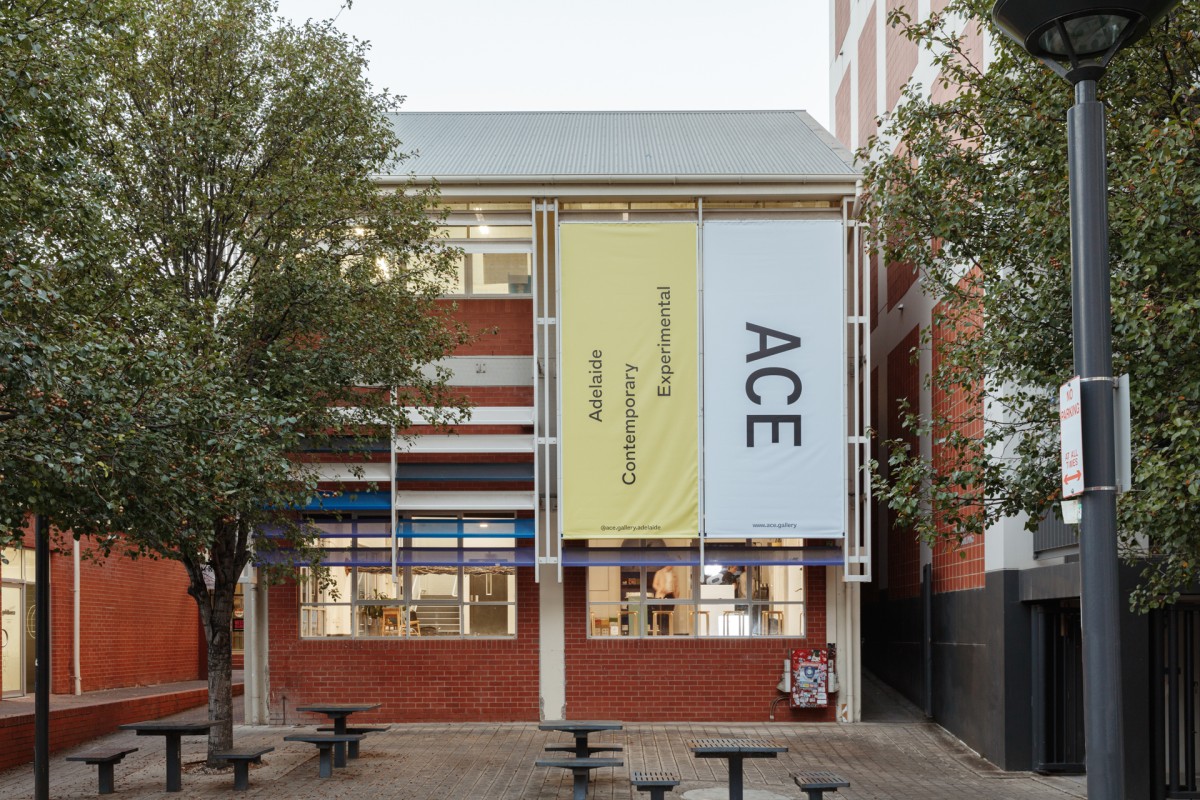 Exterior view of the ACE gallery from the Lion Arts Centre courtyard.