Spotlight on Cambodian Film Makers - Part 1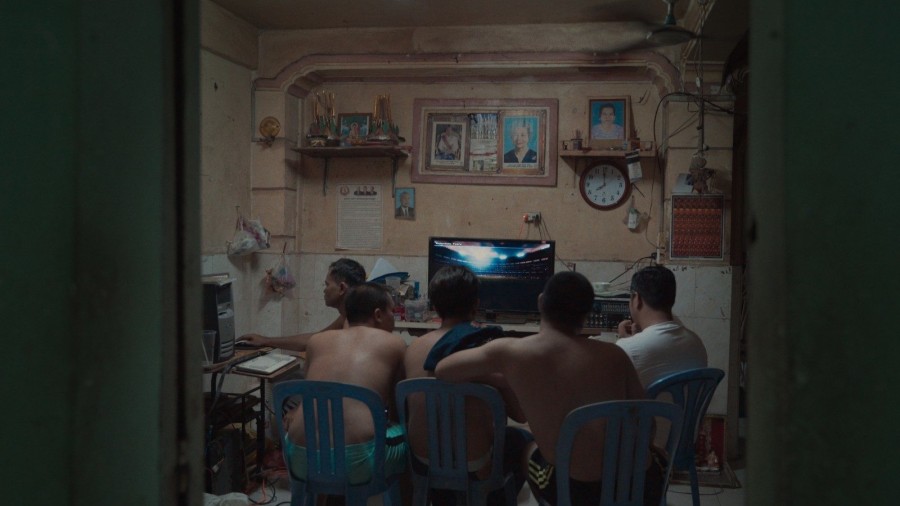 Four men watch a tv screen in a dim room, while another man is on a computer.
A screening program centred around works that inspired Skin Shade Night Day.
When
16 July 2022
3:30pm to 5:30pm
Curated by Allison Chhorn and presented as part of Skin Shade Night Day, this screening program centres around works that inspired her exhibition, spotlighting Cambodian film-makers whose works, like Chhorn, explore themes of memory, family and the legacy of cultural trauma.
The screening program is a continuation of Allison's ongoing research project into Artists of Cambodian Diaspora.
"These Cambodian film-makers share a responsibility that resonates very closely to my own practice — responding to current ways of living that are in danger of being lost while also recognising their inevitable end by capturing their memory," – Allison Chhorn.
Feature Image: Last Night I Saw You Smiling (2019), film still. Courtesy Anti-Archive.
Last Night I Saw You Smiling
Director: Kavich Neang
Cambodia, 2019, 78 min
Khmer with English subtitles
Synoposis: The White Building, an iconic structure home to 493 families in Phnom Penh, faces demolition. In the building's final days, director Kavich Neang follows his own family and neighbours as they pack belongings, share memories and anxieties, and eventually move out before the building's total destruction. One of the flagship films of the ascendent Cambodian production company Anti-Archive, Last Night I Saw You Smiling was a hit at the Rotterdam, Jeonju and Locarno film festivals in 2019.
Kavich Neang (b. 1987, Phnom Penh) has directed five short films since 2011. He first studied under Rithy Panh, and in 2013, he joined Busan's Asian Film Academy. In 2014, he co-founded Anti-Archive alongside Davy Chou and Steve Chen. He joined Cannes Cinéfondation's Residency in 2017-18. His 2019 documentary Last Night I Saw You Smiling won the NETPAC Award at IFFR, the Special Jury Prize at Jeonju, Best Image at Janela de Cinema and two awards at Tokyo FilmEx. His first narrative feature film White Building premiered in the Orizzonti section of the Venice Film Festival in 2021. This is the South Australian premiere of Last Night I Saw You Smiling.
Boding
Director: Kanitha Tith
Cambodia, 2014, 9 min
Khmer with English subtitles
Synopsis: An evocative portrait of Phnom Penh's White Building, Tith's film allows the viewer an unhurried look at its corridors, surfaces and the manifestations of life inside and around it.
Kanitha Tith (b. 1987, Phnom Penh) is a cross-disciplinary artist working between the visual arts in sculpture, performance, installation and in Cambodia's independent film industry as a director and art director. Tith has collaborated on many Anti-Archive films including Diamond Island (Davy Chou, 2016) and White Building (Kavich Neang, 2021), while her 2014 video work Boding was created as part of the group exhibition, "Rates of Exchange, Un-Compared: Contemporary Art in Bangkok and Phnom Penh" at H Gallery in Bangkok and Sa Sa Bassac in Phnom Penh. She is currently in production with Anti-Archive as director of the short documentary film titled The Crab.
Directors
Kanitha Tith,
Kavich Neang
Four men watch a tv screen in a dim room, while another man is on a computer.