ROCKAMORA LIVE: A performance with The Bait Fridge and Slowmango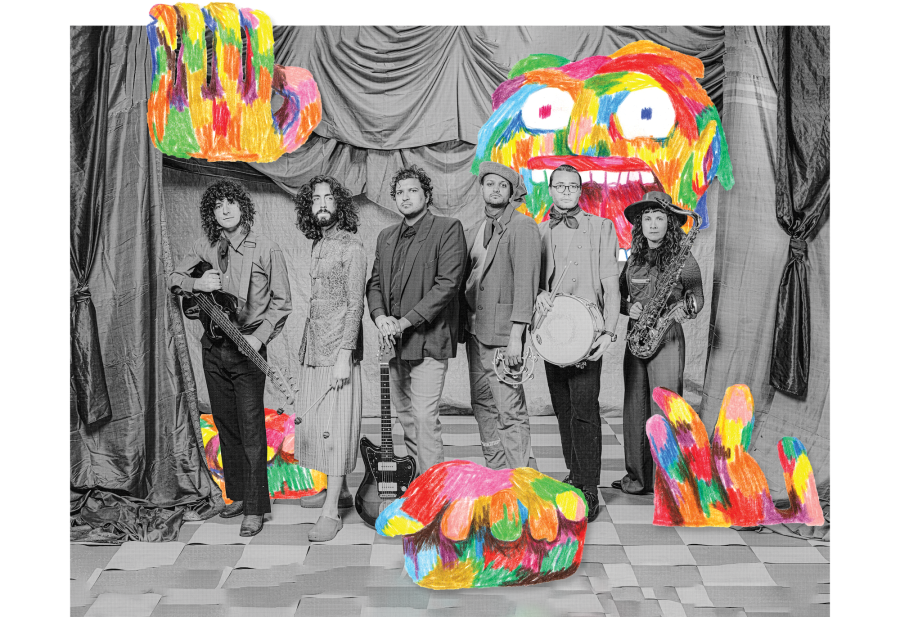 Six Slowmango band members (including Kaspar) stand to attention in black and white photo. Colourised 'Rockamora' sketch interpretation is collaged into the image.
Be a part of the live studio audience at 'Rockamora's' performance with The Bait Fridge and Slowmango.
When
Adelaide Contemporary Experimental
15 July 2023
6:00pm to 8:00pm
'Rockamora' is the newest member of local multi-arts performance collective, The Bait Fridge, and eclectic global-funk-jazz six-piece band, Slowmango!
If you've ever dreamed of witnessing a giant animatronic bully come alive as a musician within a chaotic landscape of improvisational absurdist performance, this is your moment.
For one night only, the gallery will transform into a somewhat-music-venue-somewhat-gallery-somewhat-live-studio, in which a cacophony of raw action, colour, costume and community will occur. This could otherwise be describable as a 'multi-disciplinary performance experience', but that sounds a bit dull, doesn't it?
The event will be live-recorded on site – come and be a part of the live studio audience.
Our bar will be stocked by our drink sponsors, Charlotte Dalton Wines and Bowden Brewing.
William Maggs will be performing an Auslan translation.
Feature Image: ROCKAMORA LIVE event image, Tessa King (2023), illustration, photograph, digital collage. Photography by Emmaline Zanelli. Courtesy Kaspar Schmidt Mumm.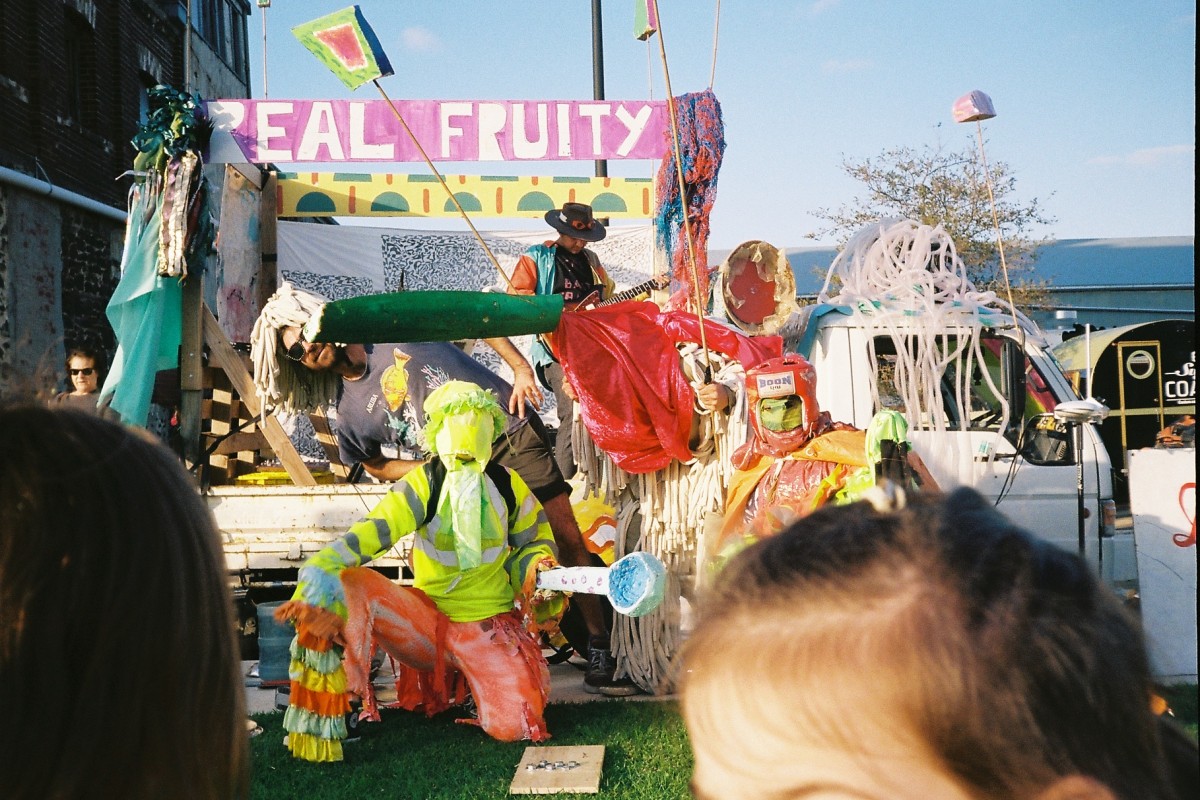 A grainy photo depicting a scene in which four people dressed up in costumes pose on a white truck.
The Bait Fridge is a performance collective based on Kaurna Country (South Australia), made of a core group of 10 visual artists and musicians, and many other fluctuating members at any one time. We began as a group of visual artists and musicians creating performative painting exercises, painting one another using catapults and leaf blowers. We have been creating under a somewhat unified banner since 2015. Much of our early performance work took place in public space as both commissioned and self-produced improvisational absurdist performances, drawing on Fluxus principles of process-centered art making and using only recycled and found materials. We aim to communicate these values through multi-disciplinary performance experiences for varied audiences, and have performed in a wide variety of contexts including a shopping mall, private birthday parties, The SUBstation, galleries, showgrounds, skate parks and the beach. See below for a non-comprehensive list of members.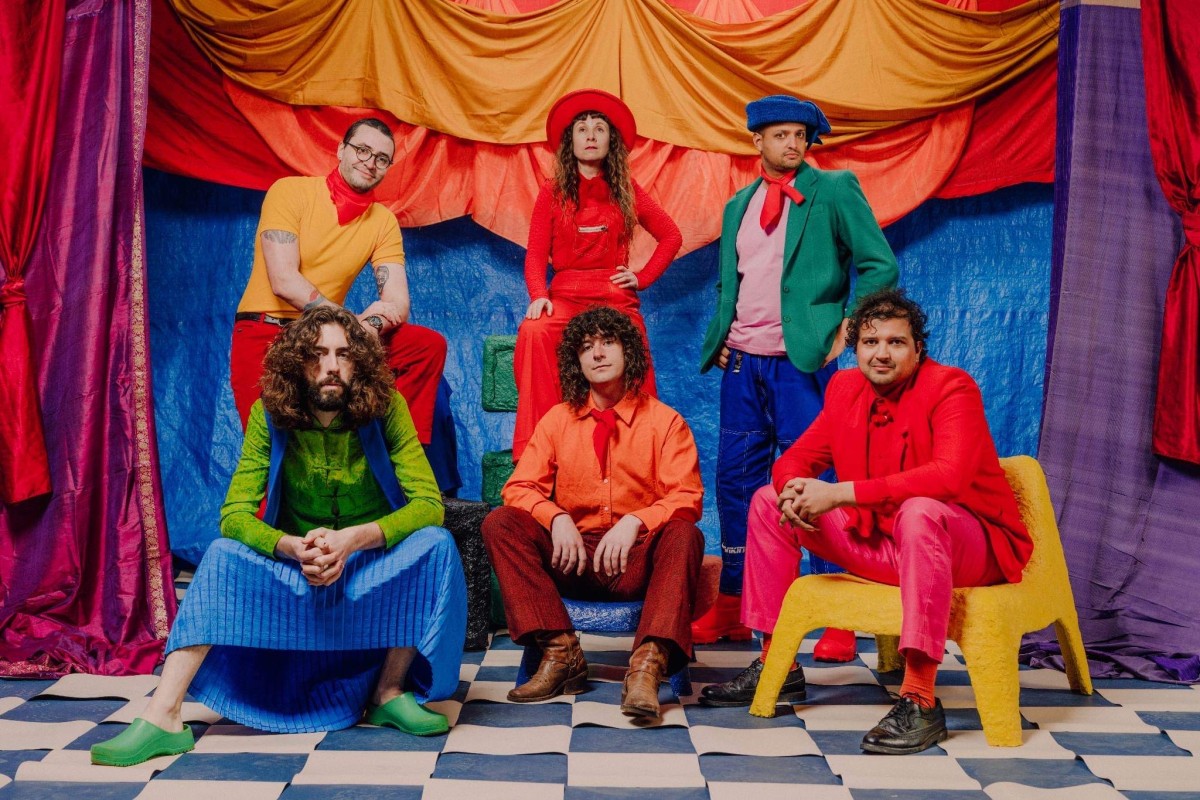 Six band members wearing colourful outfits pose on a colourful set.
Slowmango are a six-piece band from South Australia who create raw, progressive, and genre-exploring grooves which combine global musical influences with a buffet of psychedelia, funk, jazz, and progressive rock. Known for their immersive and visually striking live shows, Slowmango have packed out dancefloors at Harvest Rock, Dark Mofo, Darwin Festival and a sold-out residency at The Lab, gaining a cult following for their infectious grooves and unique flair.

With multiple short-form releases under their belt, Slowmango are releasing their debut LP in July 2023 via Porch Records - starting the journey with the first single 'Ride On, Brocoly Cowboy' on March 31st and a string of singles to follow. Slowmango's sound is eclectic and dynamic, embracing lush arrangements which move through rhythms and make bold changes yet always manage to keep a dancefloor moving. They pull inspiration from the deep pockets of the world, incorporating elements from reissued lost tapes of Africa and Asia, the summers of love in both '69 and '89, the funkier side of jazz, and a healthy dose of improvisation.

Not afraid to experiment, Slowmango often collaborate with sister multi-arts collective The Bait Fridge to create mind-bending experiences which push the boundaries of a musical performance, incorporating abstract narratives which drive the show, handmade costumes out of reclaimed materials, choreographed dances and theatrics, and immersive live projections.
Kaspar Schmidt Mumm is the 2023 recipient of the Porter Street Commission – ACE's annual award supporting new artwork commissions by South Australian artists.
This project is supported by the Australian Government through the Australia Council, its arts funding and advisory body, and the South Australian Government through Arts South Australia.
Presented as part of the South Australian Living Artists (SALA) Festival.