Offbeat – Cakeism: God Save the Cream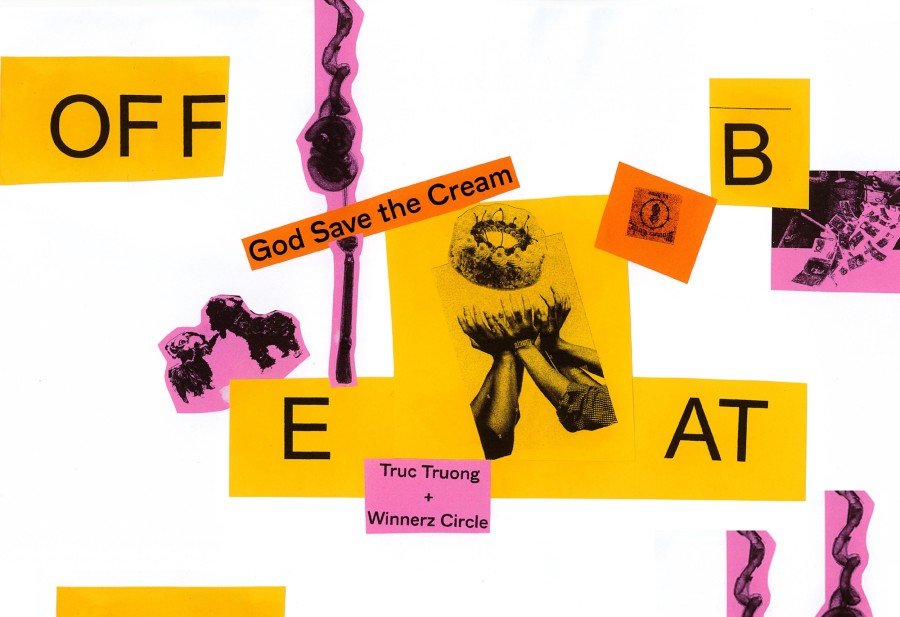 A collage featuring words and pictures, in colours of white, black, orange, yellow and pink.
Offbeat: A new series of live events at ACE curated by local contemporary artists.
When
December 17 2022
5pm to 7pm
Curated by Truc Truong, Cakesim: God Save the Cream will feature the first live performance collaboration between Truong and hardcore band Winnerz Circle.
Cakeism is loosely defined yet viscerally experienced, poking fun of pseudo-politics, omitting details of all things worth talking about to avoid cancellation, and get paid. Let the House of Cards fall.
Live performance: 6.15pm (15 minute performance)
Banh mi will be provided by the Trương family (thịt nguội and tofu).
Feature Image: Offbeat: 'Cakeism: God Save the Cream' (2022), collage for marketing materials. Courtesy Adelaide Contemporary Experimental.
Offbeat is a series of live events curated by local contemporary artists who share an interest in performance, community, music, comedy and dance. Presented across the year in ACE's front room, each artist-as-curator brings their own model for engaging with liveness and togetherness.
About Truc Truong
Truc Truong is a multidisciplinary living and working on Peramangk and Kaurna land. Since graduating from the University of South Australia in 2022 with a Bachelor of Art and Design (honours), she has exhibited as part of a group and solo exhibitions at 4A Centre for Contemporary Art (NSW), PICA (WA), The Substation (VIC), Nexus (SA), among other opportunities. Working mainly in assemblage and sculpture, her work often draws influence from post-colonialism concepts, focusing on the rise and fall of society, ideas of home, self-hate, "eastern inferiority", and the weight of family loyalty. Truong's work treads a fine line between rage and humour, convoluted memories and spaces, and the critique of power structures she attempts to escape from.
About WINNERZ CIRCLE
WINNERZ CIRCLE is a heavy Adelaide HC band sporting members from local legacy acts including Cruel Intentions and Warpath. Their first release DA DEMO has garnered attention from hardcore scenes and labels across the world following its release in March earlier this year, earning them nationwide and international tours. Focused on all things DIY and heavy, WC is sure to get your total, heartbeat and overall muscle mass raised way up.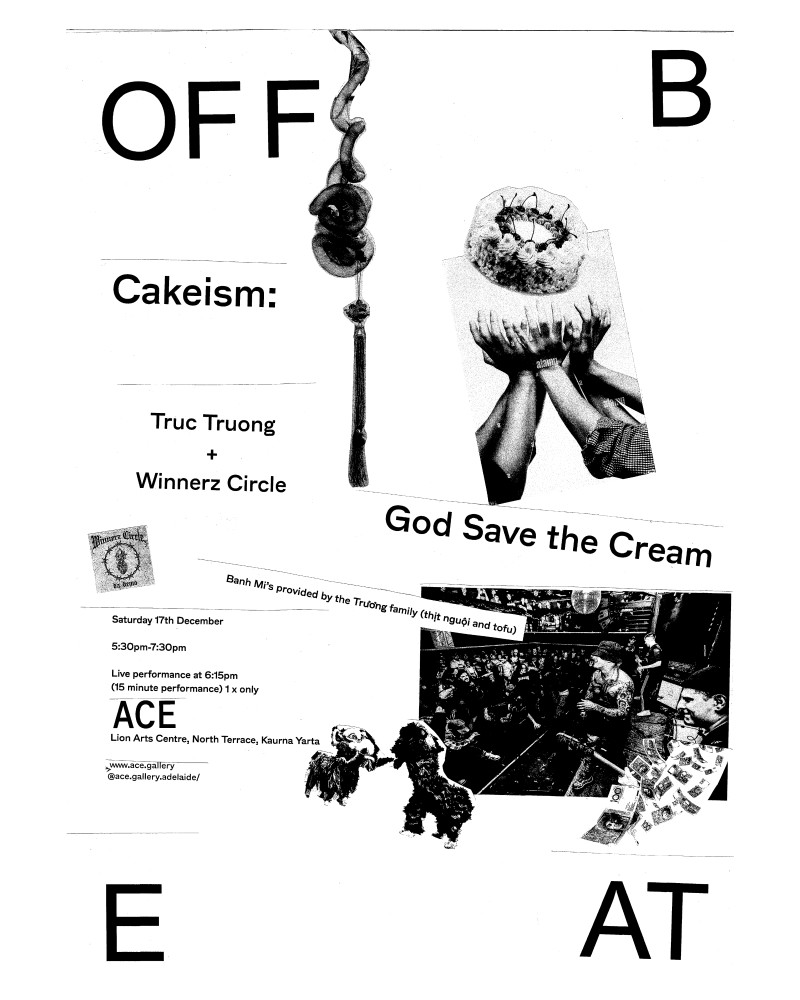 Black and white event poster resembling a scanned collaged.