Babakiueria Community Day: Ruled Us, Ruled Us, Ruled Us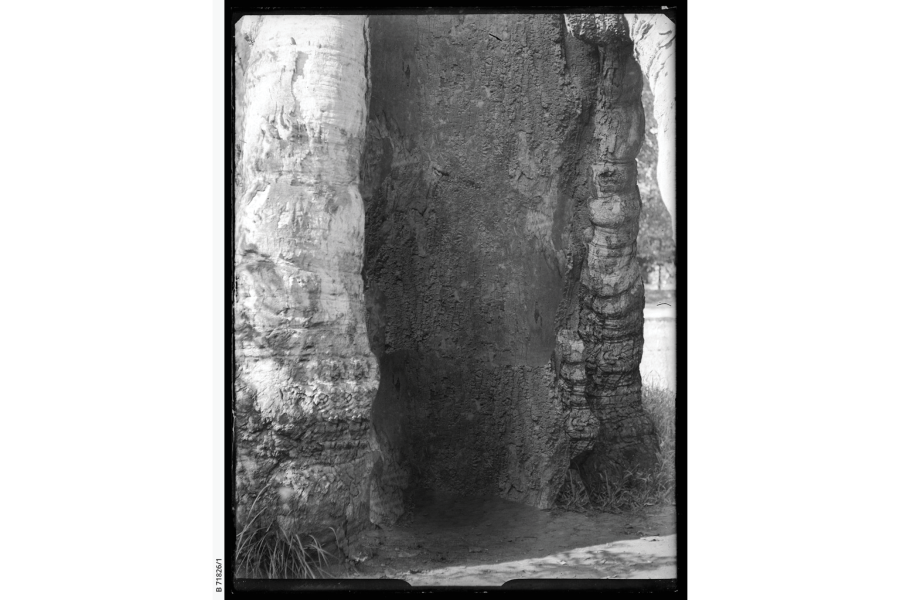 A black and white archival film photograph of a large tree trunk. A white colonial family has been photoshopped out of the image.
A specially commissioned offsite project by Brad Darkson.
When
Museum of Economic Botany, Adelaide Botanic Gardens
1 October 2023
12:00pm to 2:00pm
This family friendly event will begin with a Welcome to Country, followed by cultural activities with Uncle Moogy Sumner. 
Enjoy free barbeque-style food, as well as tea, coffee and non-alcoholic drinks.
Feature Image: Brad Darkson, 'shelter tree' (2023), film photograph, digitally manipulated. Courtesy the artist and the State Library of South Australia.
About the exhibition
Ruled Us, Ruled US, Ruled Us is a specially commissioned offsite project by multi-disciplinary artist Brad Darkson, made in consultation with Ngangki Burka, Senior Kaurna Woman Aunty Lynette Crocker and Uncle Moogy Sumner. Bringing together sound, sculpture and digital collage, the work has been developed in response to the transmutations that South Australia's social and physical environment has undergone since first contact with the British. 
Two years in the making, Ruled Us, Ruled Us, Ruled Us was initiated through a curatorial mentorship between Patrice Sharkey ( Artistic Director, Adelaide Contemporary Experimental)  and Louise O'Kelly (Founding Director and Curator, Block Universe, London) focussed on commissioning artwork in response to non-traditional settings. 
Inside the Museum of Economic Botany, the last complete collection of its kind in the world, the voice of Aunty Lynette Crocker is heard. She speaks about the ongoing impact of colonisation, not only on First Nations people, but also the plants and animals that live on Country. Where previously Country was cared for, the new inhabitants valued what could be used for commercial purposes, and disregarded or decimated the rest. 
The Museum's cabinets now hold new objects brought into the space by Darkson, his family and members of Community, and carved objects using materials collected from the living collection of the Adelaide Botanic Gardens are displayed in the gallery. These objects assert the traditional uses for native plants and trees. They are presented alongside a series of manipulated and collaged photographs sourced from archival imagery of the Botanic Gardens and the Museum that date back 130 years. By adding and subtracting elements, Darkson's images highlight the gaps in the record; where stories have been ignored, and the plants and trees that have supported people that have been overlooked. 
Ruled Us, Ruled Us, Ruled Us is a collaborative act of resistance, introducing First Nations voices and cultural practices into an institution which has traditionally only viewed plants through a Western lens. 
Curators
Patrice Sharkey,
Eleanor Scicchitano
Commissioned by Adelaide Contemporary Experimental and presented with support from the Santos Museum of Economic Botany. 
Presented as part of the South Australian Living Artists (SALA) Festival.
This project is supported by Arts South Australia's Arts Recovery Fund and the City of Adelaide's Public Art Grant.