Allison Chhorn: Skin Shade Night Day
Past Exhibition
June 4 2022 - August 13 2022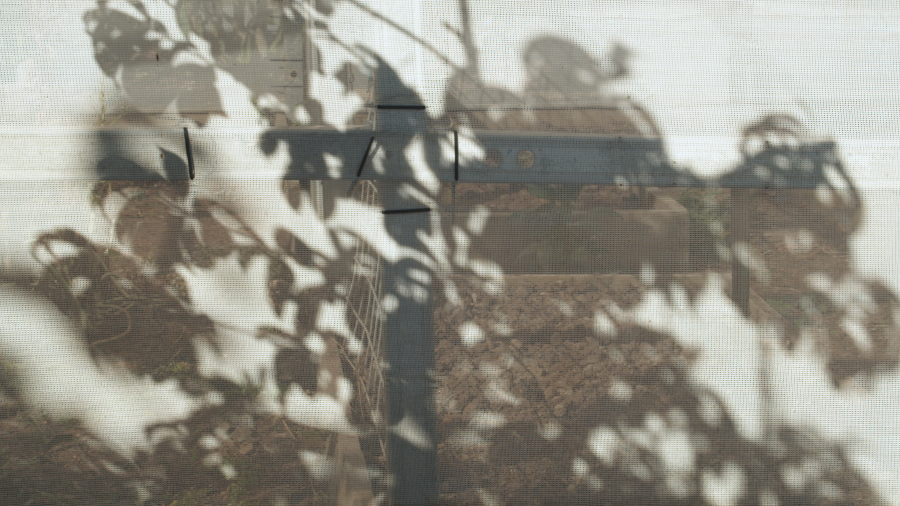 Film still of silhouette of leaves against shade house.
2022 Porter Street Commission Exhibition
When
June 4 2022 to August 13 2022
Skin Shade Night Day is the first major solo exhibition by Allison Chhorn which explores the daily routine and rituals practised by the artist's Cambodian-Australian family. Reperformed and documented through a process of embodied empathy, acts of service, such as gardening and cooking, play out as echoes from the past across a sound and image installation displayed in a shade house. Spectres, shadows and aural textures conjure up impressions of a place that remembers how its inhabitants once lived.
As the daughter and granddaughter of Cambodian migrants, Chhorn's work explores the personal and familial ricochets of the Khmer Rouge – a brutal political regime, from 1975-79, that claimed the lives of nearly two million Cambodians. Chhorn's films obliquely approach the echoing traumas, memories, beliefs and behaviours of her family, particularly set against the Australian context.
Informed by a trip that Chhorn and her mother undertook in 2021, where they visited a family friend's property in Darwin, the shade house captured Chhorn's imagination and sense of responsibility to provide security for her parents, particularly as a daughter of migrant refugees. Upon her return, Chhorn sought a piece of land for her father to build a real shade house, which she then replicated and rebuilt as a multi-screen, immersive cinematic installation.

Feature Image: Allison Chhorn, 'Skin Shade Night Day' (2022), video still. Courtesy the artist.
Suspended shade cloth structure in centre of gallery. Projections featuring plant matter spill outward onto the walls from within the structure.
Support
Allison Chhorn is the 2022 recipient of the Porter Street Commission – ACE's annual award supporting new artwork commissions by South Australian artists.
Presented as part of the South Australian Living Artists (SALA) Festival.
This project is supported by the South Australian Government through Arts South Australia.