A river that flows both ways: Selected works from the 23rd Biennale of Sydney: rīvus
Past Exhibition
4 February - 18 March 2023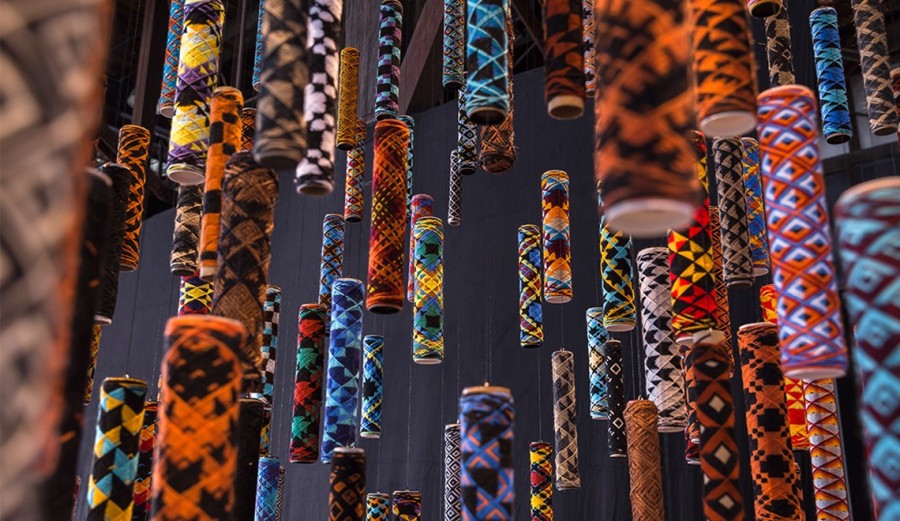 Many suspended cylindrical objects of many colours and patterns.
Participants: Aluaiy Kaumakan, Yuko Mohri, Murrundi / Murray River, Imhathai Suwatthanasilp and Sopolemalama Filipe Tohi
When
Adelaide Contemporary Experimental
4 February to 18 March 2023
Inspired by rivers that flow both ways, ACE has partnered with the Biennale of Sydney to present a local response to the 23rd Biennale, titled rīvus (Latin for "stream"). Dedicated to nature and water-based ecologies, rīvus tackles many timely environmental themes including climate change and the effect of colonisation on First Peoples' custodianship of ecosystems. 
Indigenous knowledges have long understood non-human entities as living ancestral beings with a right to life that must be protected. But only recently have animals, plants, mountains and bodies of water been granted legal personhood. If we can recognise them as individual beings, what might they say?
This group presentation will feature work by Aluaiy Kaumakan (Paiwan Nation), Yuko Mohri (Japan), Imhathai Suwatthanasilp (Thailand), and Sopolemalama Filipe Tohi (Tonga), alongside the river voice of the Murrundi / Murray River.
Sopolemalama Filipe Tohi's suspended installation, Haukulasi (1995-2021), uses the traditional Tongan form of binding or lashing known as lalava, which is historically used in the construction of houses around the Pacific, and takes the form of the double helix of DNA, the blueprint for life, as well as with constellations in the night sky that guide navigation.
Imhathai Suwatthanasilp's works Plankton, Star and Virus (2022), contain hundreds of small objects made from human hair, fish scales and moth wings, representing plankton, stars and viruses. The artist presents these tiny lifeforms against vast backdrops signifying the ocean, sky and our world, to present us with a different way of looking at our relationship to the world around us.
Yuko Mohri's kinetic sculptures use reconfigured everyday objects and machine parts to highlight various facets coming from the encounter between objects and invisible energies such as magnetism, gravity, wind, or light. She also shows a series of photographs titled Moré Moré Tokyo (Leaky Tokyo) : Fieldwork (2009–2021), featuring makeshift water repairs found at train and subway stations across metropolitan Tokyo. Mohri began the series in 2009, when she noticed how station agents were creatively combining everyday objects and materials such as umbrellas, bags, water bottles, buckets, and plastic sheeting to redirect the flow of groundwater leaking through the municipal infrastructure.  
Aluaiy Kaumakan belongs to a leading noble family of the Paiwan Nation from the Paridrayan Community of Pingtung County in southern Taiwan, and her textile sculpture, Semasipu - Remembering Our Intimacies (2021-2022), uses the Paiwan practice of lemikalik to weave in concentric circles, intertwining memories of tribal nobility.
The final participant in the exhibition is the Murrundi / Murray River, which includes the Kurangk (Coorong), Lower Lakes and Murray Mouth region – one of Australia's most important wetland areas. For José Roca an important part of making an exhibition exploring water was to invite selected rivers to become 'participants' in it: "The rivers will be represented by ancestral custodians or contemporary custodians that will speak on their behalf," Roca says. To this end, ACE has collaborated with Clyde Rigney Jnr (Ngarrindjeri) and Change Media to speak on the Murrundi's behalf in the local version of this significant international project.
Feature Image: Sopolemalama Filipe Tohi, 'Haukulasi', 1995–2021 (detail). Commissioned by the Biennale of Sydney with generous support from Creative New Zealand. Photo by Document Photography.
Artists
Aluaiy Kaumakan,
Yuko Mohri,
Murrundi / Murray River,
Imhathai Suwatthanasilp,
Sopolemalama Filipe Tohi
Two white display cabinets sit on the floor; two black display cabinets hang on gallery wall. An orbe shines brightly above and between the cabinets.
Education Resource
Liquid Languages: Yuko Mohri: Found Materials is a pre-and-post-exhibition learning resource from the Biennale of Sydney's exhibition rīvus. The resource enables students to connect with ACE's exhibition A river that flows both ways: Selected works from the 23rd Biennale of Sydney: rīvus.
Project Curator: Patrice Sharkey 
Curatorial Liaison: Dominic Guerrera
Production Coordinator: Zak Hutchinson
rīvus was developed and realised by a Curatorium including:
José Roca, Artistic Director, 23rd Biennale of Sydney
Paschal Daantos Berry, Head of Learning and Participation, Art Gallery of New South Wales
Anna Davis, Curator, Museum of Contemporary Art Australia
Hannah Donnelly, Producer, First Nations Programs, Information + Cultural Exchange (I.C.E.)
Talia Linz, Curator, Artspace
A river that flows both ways: Selected works from the 23rd Biennale of Sydney: rīvus is presented as part of the 2023 Adelaide Festival program. 

A river that flows both ways: Selected works from the 23rd Biennale of Sydney: rīvus is presented by the Biennale of Sydney and Adelaide Contemporary Experimental, with generous support from the Restart Investment to Sustain and Expand (RISE) Fund – an Australian Government initiative.